Step your game up!" with Korfball. Korfball is a complete, customizable and easy to use korfball stats, clipboard, and scorekeeper tool. It's designed for those want to improve coach, player and team performance by exploiting the new insights into the game provided by Korfball.
With Korfball you can do the following:
• Discover new game insights with Game Chart
• Create diagrams and animated plays using the clipboard (iPad)
• Define the stats you'd like to track
• Begin tracking a game with no setup required
• Analyze shooting proficiency using shooting zones
• Share stats with coaches, players, parents, fans, and friends
Korfball comes with the following capabilities:
• Game Chart – track all actions on the court.
• Scoreboard – integrated game clock to track playing time
• Play-by-Play – customizable time stamped play-by-play messages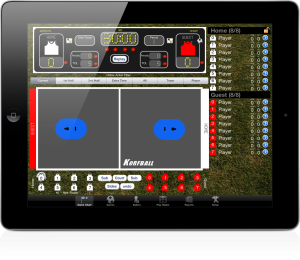 • Shooting Zones – customizable shooting zones
• Play Maker – customizable animated plays (iPad)
• MVP Calculator – determine MVP using game stats
• Instant Replay – Replay game events
• Message Center – customizable messaging for game stats
• Rulesets – customizable rules to run the scoreboard
• Distance To Basket – auto calculate distance to basket
• Templates – court templates for offline use
• Standard courts – indoor and grass courts
• Custom court – Use your own court from the photo library
• Reports – a rich set of team and individual reports
Ballers support the following:
• 200 animated plays
• 100 scheduled games
• 100 completed games
• 100 teams
• 028 templates
• 025 concurrent games
• 025 players per team
• 005 courts
The following capabilities are planned for future releases of Korfball:
• Produce Scouting Report
• Substitution Manager
• Produce Game Plan
• Produce Practice Plan
• Bluetooth data sharing
What are you waiting for?  Get Korfball today.