"Step your game up!" Ballers is the most complete, customizable, and easy to use basketball stats, clipboard, and scorekeeper tool available. It's designed for those who want a competitive edge. "It's not fair to compete without it."
Ballers provide visual insights into the game unmatched by other tools. The insights provided by Ballers are a quantum leap beyond what's provided with simple shot charting available in other tools. You can capture all events on the court, not just shots, control the amount of detail you want to see, and get competitive insights into team and player tendencies, strengths, and weaknesses using "Game Chart" and "Visual Insight Manager".
Ballers provides the ability to create animated play books using "PlayMaker", the integrated animated clipboard capability. You can improve coach, team, and player performance through the use of animated plays and drawings. You can create and save animated plays, play books, offense formations and defense formations. In the future, you will be able to purchase animated play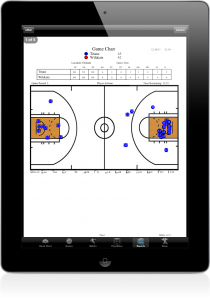 books designed by the best coaches and players.
Ballers "Stats Customization" is off the charts! You can track assists, blocks, charges, deflections, fouls, technical fouls, loose balls, turnovers, steals, defensive rebounds, offensive rebounds, 3-point shots, field goals, free throws, timeouts, other, and other 2 including the time the event occurred and distance to the basket for all stats (yes real distance to the basket!) out of the box. Want to track a different stat? You can do that with Ballers "Stats Customization".
You won't find Shooting Zones, Shooting Analysis, Instant Replay, MVP Calculator, Play-by-Play customization, Message Center, or Report Manager in the other tools either.
Ballers is the complete package. It comes with the following capabilities:
• Game Chart – track all game events on the court
• Visual Insight Manager – control view of events
• Scoreboard – run game clock, track playing time
• Rulesets – customizable rules to run scoreboard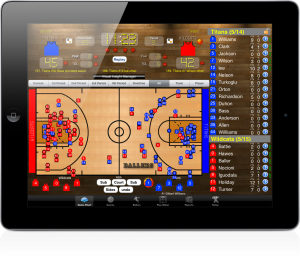 • Play-by-Play – customizable messages
• Shooting Zones – customizable shooting zones
• Shooting Analysis – analyze shooting proficiency
• Play Maker – clipboard for animated plays (iPad)
• MVP Calculator – determine MVP using stats
• Instant Replay – Replay game events
• Message Center – message scrolling
• Distance To Basket – auto calculate distance
• Templates – court templates for offline use
• Standard courts – NBA, FIBA, NCAA, HS court
• Custom court – Use court from photo library
• Report Manager – customizable reporting
• Stats Customization – define and track stats
• MaxPrep – export stats in MaxPrep format
A tool that does all of this should be illegal!
Ballers support the following:
• 200 animated plays
• 100 scheduled games
• 100 completed games
• 100 teams
• 028 templates
• 025 concurrent games
• 015 players per team
• 005 courts
The following capabilities are planned for future releases of Ballers:
• Produce Scouting Report
• Substitution Manager
• Produce Game Plan
• Produce Practice Plan
• Bluetooth data sharing
Your search is over. No other tool provides the competitive edge provided by Ballers. No other tool matches Ballers' implemented and planned capabilities.
"I wouldn't want to compete without it."
Step your game up!